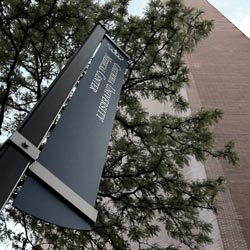 PROMISE PROJECT supports post doctoral training opportunities for those interested in clinical Pediatric Neuropsychology. As part of Columbia University Irving Medical Center, Promise at Columbia provides a comprehensive educational experience, giving fellows exposure to neuropsychological assessment, educational advocacy, and research. The clinic is part of New York – Presbyterian Morgan Stanley Children's Hospital.
Columbia University Irving Medical Center and New York Presbyterian Hospital's Division of Child and Adolescent Psychiatry are accepting applications for the Post-Doctoral Fellowship in Clinical Neuropsychology beginning September of 2022.
We are recruiting applicants for two-year, full-time clinical post-doctoral positions based at Columbia University Irving Medical Center and the Morgan Stanley Children's Hospital of New York Presbyterian (CHONY). The PROMISE Program Clinic is part of the Outpatient Behavioral Health Clinical Services in the Division of Child and Adolescent Psychiatry. The PROMISE Program provides comprehensive neuropsychological assessment and advocacy to underserved children with learning, attention, and behavior/psychiatric difficulties. This is a unique opportunity to work with an innovative program that specifically serves a multi-stressed and vulnerable community.
Training focuses on providing thorough and comprehensive neuropsychological assessment of learning and related disorders, with strong training in a developmental model. There will also be opportunities for assessing young children and children with Autism Spectrum Disorders, as well as opportunity to evaluate children with medical/neurological complications. Many patients present with complex comorbid psychiatric histories and fellows collaborate regularly with CHONY mental health professionals. Fellows also obtain training in how to interface and collaborate with school systems, including conducting school observations and attending IEP meetings. Training in educational/legal advocacy is also provided and there is exposure to treatment issues and research. Intensive supervision is provided for all fellows, as well as regular case conferences and didactics within the clinic and the broader academic community at Columbia University Irving Medical Center. In the second year, fellows also have opportunities for community presentations and lectures, as well as experience in supervising psychology externs.
Salary and benefits are competitive. Prior psychological testing and clinical experience with children and families is required and candidates must possess excellent clinical and written communication skills. Candidates who are bilingual (Spanish) are especially encouraged to apply.
Interested applicants should send a CV, three letters of reference, a graduate transcript and one sample neuropsychological report by December 14, 2020. Confirmation of completion (or progress toward the doctorate) should be forwarded by the candidate's Program Director. Please contact Dr. Meghan Tomb, 212-342-1600, for further information.
All material should be sent via mail or email to:
Meghan Tomb, Ph.D., Clinical Director
Promise Program
Columbia University Medical Center/New York Presbyterian Hospital
635 W. 165th St., Room 636A
New York, NY 10032
mt2718@cumc.columbia.edu
ag498@cumc.columbia.edu