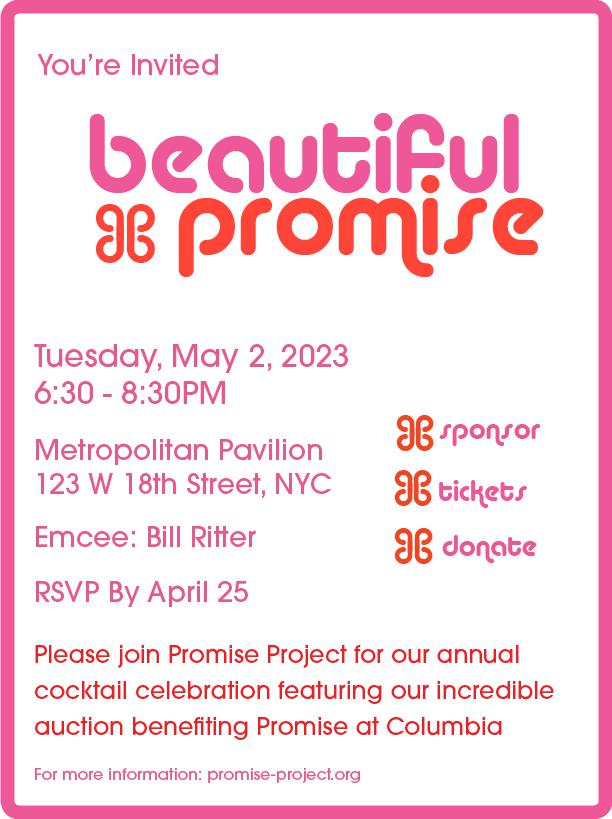 Promise Project's Beautiful Promise, our biggest fundraiser of the year, takes place on Tuesday, May 2, 2023 at Metropolitan Pavilion. Our cocktail celebration will feature an exceptional program, as well as our signature silent auction of spectacular New York experiences, contemporary accessories, rare wines, and more.
In collaboration with Columbia University Irving Medical Center, Promise provides free, state-of-the-art neuropsychological testing as well as advocacy support and parent education so that disadvantaged children with learning disabilities get the tools they need to succeed -- in school and in life. All proceeds from Beautiful Promise go directly towards the Promise at Columbia program.
Together, we can make lasting change for the children in our program – putting them on a path to an education and giving them the opportunity to reach their promise.
Tuesday, May 2 2023
6:30 PM EDT
Metropolitan Pavilion
123 W 18th St, New York, NY 10011
Sponsorships >>
Tickets >>
Donations>>
BEAUTIFUL PROMISE SPONSORS

Lead SPONSOR
Ben-Dov Family/Luminescence Foundation
CHILDREN'S CHAMPION
GFP Real Estate
Lori Buchbinder & Ray McDaniel
Andrew Lipsky & Holly Kelly
CHILDREN'S MENTOR
Goldberg Weprin Finkel Goldstein
Jennifer & Chas Grossman
Deutsche Bank
Mario Rodriguez & Ted Kamoutsis
Buchbinder & Warren
CHILDREN'S GUIDE
Julie & David Friedland
Dana Buchman
Susan Buchbinder & William Abramson
Bonsignore Architects
Emily Cantres Marshall & Torsten Marshall
Joanna & Matthew Rego
Apple Bank
Julie & Jonas Fajgenbaum
Valley National Bank
NewYork-Presbyterian Hospital
Ruth Genn & Stacey Shurgin
Susan & Arthur Hatzopoulos
Gallagher
Michelle & Dan Silver
RAND Engineering
Shawn Warren
Jennifer & Jerry Lee
Howard L. Zimmerman Architects
Stephen Gaynor School
CHILDREN'S FRIEND
Joyce Frater & Daniel Blitzer
Suzi & Franklin Parrasch
Elissa & Bill Johnson
The Windward School
Maureen Veitch
Henrietta Jones
Kathy & Joseph Grano
Betsy Seidman
Jeanette Friedman
RSM LLP
Martin & Pat Lager
Julie & Michael Swidler
Taylor & Daniel Neiditch
Roberta & Brad Karp
Belkin Burden Goldman LLP
Ellen Hamilton
Metro Inc
Shaiza Rizavi & Jon Friedland
Walter B. Melvin Architects, LLC